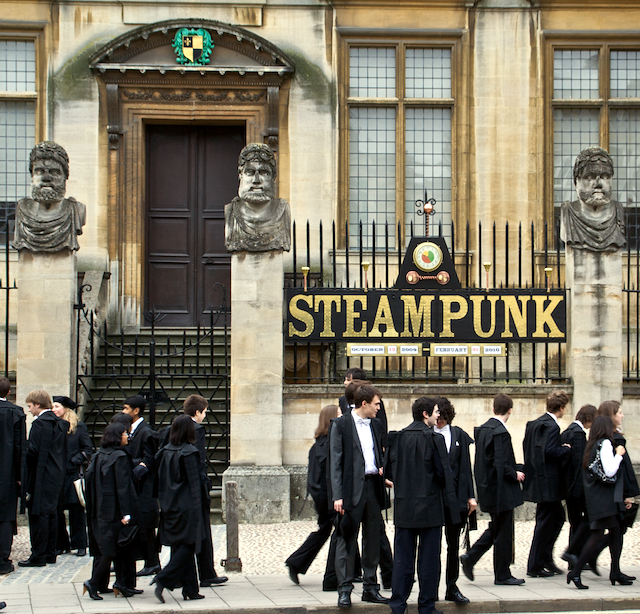 image source: tor
This is not timely news- I knew about this back in October, but I forgot to post about it! Bad blogger!
There is a steampunk exhibit currently being featured in The University of Oxford's
Museum of the History of Science
. It's curated by American artist Art Donovan, who has a small blog on the exhibit
here
.
Erika Heet manages to concisely
describe the exhibit in few words
for
Dwell Magazine
(a home design and decor publication):
With names like Dr. Grimm, Datamancer, and Mad Uncle Cliff working in media ranging from gas masks to brass goggles and hot-air engines, the artists of the Steampunk movement are bringing their mélange of past, future and fantasy to the Museum of the History of Science at Oxford University for a group exhibition. Under the curatorial direction of Art Donovan—who describes his illuminated sculptures as "electro-futurist"—the group of 18 artists will be showing jewelry, computer accessories, costumes, watches, kinetic sculptures and all things that represent the Steampunk aesthetic, which Donovan describes as "the steam of antique locomotion combined with the punk outsider, the lone wolf artist, the do-it-yourself craftsperson not beholden to any contemporary style or ideology." Of all the marriages of old and new offered at the exhibition, Jesse Newhouse's iPod gramophone promises to be among the most fitting manifestations of the genre that has gained so much attention of late.
Few could have put it better.
This exhibit has garnered a lot of attention, from mention on
WIRED Magazine
's
blog
to a few
BBC
interviews
and
images
to a one-sentence mention of the exhibit in
this great TIME article
on the steampunk movement.
The exhibit runs now until February 21, 2010. So if you're in Oxford, England any time before the end of February, it might be worth checking out. If you can't quite make it across the pond, then just check out the
images from the exhibit
on the website. I'd post some images myself, but they are protected from the likes of bloggers like me. Except for this "EyePod" photo from
this article
on the exhibit on
The Oxford Times
' website:
Back to writing essays for finals week. What. Fun.