Google's regular image changes are the main reason why I was alerted to the fact that today is the birthday of
Jules Verne
, the 19th century French author of
20,000 Leagues Under the Sea
and Journey to the Center of the Earth. This Victorian era writer is often called the Father of Science Fiction, and his works are considered by many steampunk enthusiasts as
the
inspiration for the creation of the genre.
To honor his birthday, Google has made an interactive
Doodle
on
their homepage
that makes the letters in
Google
a virtual submarine window. To the left of the letters there are controls so visitors can move the virtual
Nautilus
under the sea.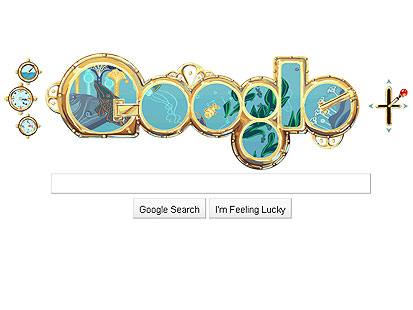 Click here
to read what
The Official Google Blog
has to say about this image.
So happy birthday Mr. Verne, and thank you for your great contributions to steampunk, even if you had no direct control over its creation.