Note regarding yesterday's post: Le Professeur Gothique reminded me that I need to replace the negatives with positives. So here they are:
Replace oversleeping with using that time that I would have slept to either write or exercise before I go to work in the morning.
Replace perfectionism and impatience with more "me" time, or asking for more "me" time from my friends and boyfriend.
Now on to today's planned post.
The sewing machine that Scott got me for Christmas has already seen much use. Besides leaving the apartment weekly for the steampunk Stitch 'n Bitches that I regularly attend, I have also been using much of the little spare time I have in trying out new projects.
Oddly enough, I never seem to work on my Stitch 'n Bitch project- a brown Victorian skirt- in my own apartment. Instead I've made a pair of completely useless transparent curtains for three windows in our apartment and a pre-measured apron sewing "kit" from Wal-Mart that just needed to be sewn together and assembled. The apron, a gift for my twin sister who is currently residing in Germany, is pictured below:
The model is yours truly in fully unfashionable work clothes.
All I have to do is add real buttons to the stupid fabric "buttons" printed on the actual apron.
There are a ton of mistakes on these projects, but I have only seam ripped items when I know I didn't follow the directions right, not when I actually made some sort of thoughtless stitching blunder. Otherwise I would have to do both the unevenly cut curtains and somewhat oddly cinched apron over again.
Keeping these mistakes is, I hope, something that will help me curb my tendency toward debilitating perfectionism that sometimes prevents me from finishing projects or works in progress.
It certainly helps when I think of them as simply "learning tool projects" rather than actual gifts or useful items. The apron I am sending to my sister as is only because she can only take so many items back with her when she leaves Germany, so if she wants to throw out my apron I have no problem with it. The transparent curtains will be pitched or reused for another project when I move out of this apartment- whether that's in eight months or 5 years.
I have learned many things from just the apron alone- such as the uses of topstitching and what an overlocking stitch is. It took me forever to discover how to actually do the latter, but the research I put into it gave me greater understanding of its function, which made me appreciate it all the more.
Yesterday I was shopping around JoAnn Fabrics when I discovered that Simplicity was having another sale on its patterns- this time $0.99 a pattern. So I decided to buy the following Victorian-era patterns, even if it might be a good long while until I get to them:
While I am not a fan of Civil War fashion, I just loved this dress.
Hey, no one will notice gross mistakes on your historical undergarments. Unless you'r wearing only these garments to an Emilie Autumn concert...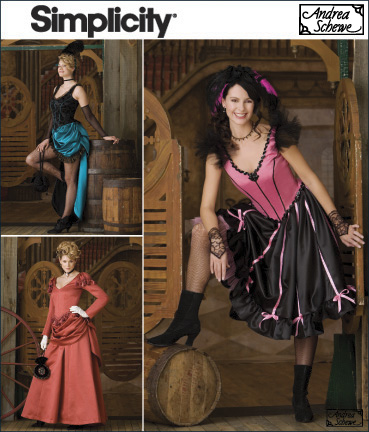 I really only bought this pattern for the Western dress on the lower left and the simple slutty skirt on the upper left.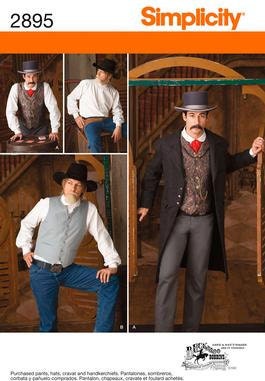 For Scott! What good is a boyfriend if he can't be a guinea pig?
I am extremely excited to keep learning more about sewing various items. So far I am spending more time and money than is actually profitable compared to buying something online, but hopefully that will change sometime in the not too distant future.